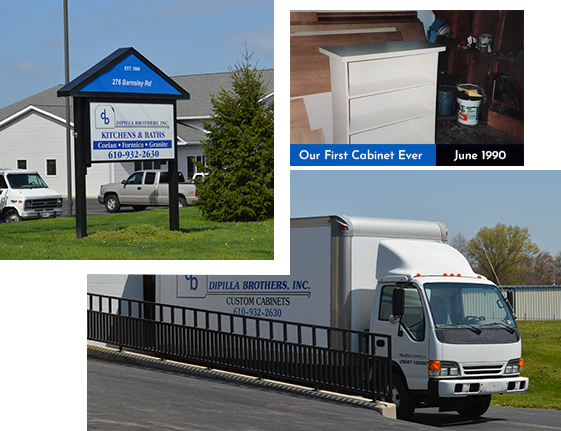 We, at DiPilla Brothers Inc. Custom Casework would like to take this opportunity to introduce you to our company. DiPilla Brothers Inc. is a family owned business with over 30 years of experience in custom casework and cabinets. Services provided by DiPilla Brothers Inc. are unlimited, we fabricate new, install, refurbish old, and design according to space and budget needs. A list of our accomplishments can be found in this information packet.
Our goal is total customer satisfaction, DiPilla Brothers Inc. achieves this goal by working one on one with customers to fulfill their needs. Since we are located in convenient Nottingham, Pennsylvania, DiPilla Brothers Inc. can service a wide area, including Chester, Delaware, and Lancaster Counties along with the States of Delaware and Maryland.
We appreciate this chance to introduce DiPilla Brothers Inc. and look forward to meeting all your custom casework and cabinet needs in the near future.
Here's just some of the things we can do for you
Nurses stations
Reception desks
Counter tops
File cabinets
Workstations
Storage cabinets
Computer stations
Mail slot cabinets
Conference tables
Pencil drawers
keyboard pull outs
On-site re-laminating
Cabinet locks
Adjustable shelving and hardware
Laboratory & hospital casework
Wardrobes
Desks
Bookcases
Office Furniture
Paper slot cabinets
Custom kitchens and baths
Display cases
Literature racks
DiPilla Brothers Inc. has been in business since 1989. Our expertise in the Corian and Laminate countertop and custom cabinet making business has kept us busy throughout the years. We specialize in many projects from small miscellaneous to moderate size projects and can work within short lead times and any budget to give your facility a fresh look. We also repair solid wood and formica laminate.
DiPilla Brothers Inc. is an architectural millwork company; we provide a higher standard of dedication, craftsmanship, and excellence in service. DiPilla Brothers Inc. believes that the quality of work performed by its employees exceeds the normal in the Healthcare and Commercial Facilities. All of our work is custom made to the owner and or architect specifications. We provide in-house design/drafting we offer installation for the custom cabinets we produce. To learn more about our products and services please contact one of our representatives.
Some of our casework products include custom laminate casework solid surface and laminate tops, specialty millwork, classroom workstations, laboratory work surfaces, High Pressure laminate repairs to resolve safety issues and administrative furniture. We also offer plexiglass splash guards in light of the recent Covid-19 pandemic.
If you would like to see what services we can offer you, please don't hesitate to call.
Sincerely yours,
Edward DiPilla
Vice-President
DiPilla Brothers Inc.